At VetsOne we have an array of Dental Products for you to choose from to help with your pets regime at home.
Royal Canin Dental Care
These crunchy kibbles are designed to fit between the teeth of dogs of all sizes. They offer all the nutrients needed for a healthy diet while helping to reduce tartar formation.  Our Dental Care range has been scientifically proven to reduce the formation of tartar on dogs' teeth by up to 99% (MEDIUM formula), up to 75% (MAXI formula) or up to 69% (MINI formula).   Bacteria naturally settles on your dog's teeth after meals, which can cause a build up of plaque and tartar and could eventually lead to gum disease. Our kibbles have an advanced texture that cleans your dog's teeth while they're chewing. They surround each tooth as your dog bites down, so every mouthful rubs the surface with a brushing effect.   These nutritious kibbles are also enhanced with a binding agent that bonds to the calcium in your dog's mouth and helps to prevent tartar forming.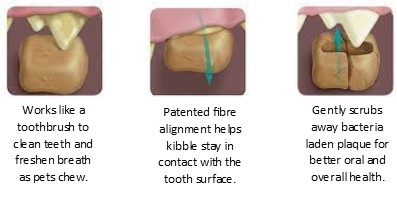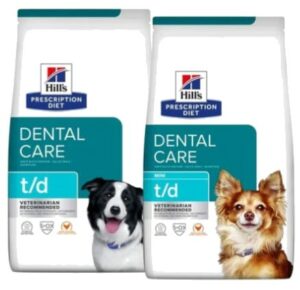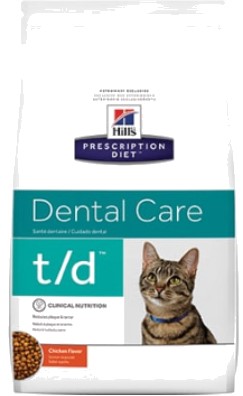 Hill's Prescription Diet  t/d
This dry food formula is clinically proven to reduce plaque, stain & tartar buildup and clean up to the gum line.   The kibble contains a special matrix of fibres which act like a toothbrush to scrub the tooth to remove bacteria. The large kibble size, shape and texture cleans the teeth to the gum line to promote healthy gums and teeth. Exclusive feeding of Hill's Prescription Diet t/d Dry Food has been shown to be more effective than toothbrushing. Hill's nutritionists & veterinarians developed Prescription Diet t/d clinical nutrition to promote healthy gums and teeth and support your cat's overall health.
Virbac Dental Range
Aquadent® FR3SH™ uses FR3SH™ Technology to address three causes of bad breath.  As a liquid solution Aquadent® FR3SH™ is easily administered as an additive to drinking water.  Aquadent® FR3SH™ has been demonstrated to be highly palatable and readily acceptable to both dogs and cats.
Veggiedent® FR3SH™ Dental Chews are enhanced with FR3SH™ Technology to target bad breath in 3 ways:  Addresses oral causes of bad breath.  Freshens breath with cooling action.  Bad breath can result from gastrointestinal problems due to unbalanced intestinal microflora. FR3SH™ Technology includes the addition of a prebiotic to promote a balanced and healthy gut flora.  Veggiedent® FR3SH™ chews are vegetable based dental chew sticks – meaning that they are safe to use, won't lead to impactions, broken teeth, cut gums or constipation.
CET Enzymatic Toothpaste & Dental Kits.  The Dual-Enzyme System toothpaste is safe for dogs and cats. The active ingredients slow the formation of plaque and help to quickly eliminate mouth odours. These toothpastes come in 2 appealing flavours, contain no foaming agents, and are safe for pets to swallow. Poultry and malt flavours are well-accepted by pets to help make brushing easy. Available in 70g tubes.  The C.E.T. Fingerbrush is an ideal beginner toothbrush for pet owners to help acquaint dogs and cats with the toothbrushing experience.
Oxyfresh Dental Range
The Water Additive is simply put into their drinking water to get fresh breath every time they drink. Try it alongside our pet toothpaste to see impressive results, fast. 
With molecular-level breath control, our proprietary ingredient Oxygene® works on contact to safely eliminate odors caused by bacteria in your pet's mouth. No other water additive or pet toothpaste has it!
It's the same formula that dentists trust for humans and made it safe for pets. Our pet dental kit (gel toothpaste & fingerbrush) proactively fights plaque and tartar buildup while maintaining healthy gum tissue with no hassle.
Our pet water additive and gel toothpaste are 100% free of scents & flavors, so even the pickiest pets approve.